1917-D FINE Buffalo Nickel #1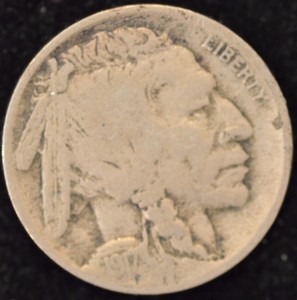 ---
1917-D FINE Buffalo Nickel #1
This Buffalo Nickel is guaranteed genuine and as described above.  I feel my prices are fair to everyone, so I do not accept lower offers. 
(See details of grading description below.) Defects: none, other than what is normal for the stated condition and/or clearly shows in photos. Satisfaction guaranteed or your money back. I've been selling coins & supplies since 1965, so
BUY
with confidence!
I gladly accept PAYPAL so you can use your VISA & MASTERCARD, bank account, etc., through Paypal. Check out my other auctions for more coins! (Have fun running them up!)
Please note:
If paying with Paypal, please combine all auctions won, making one payment.
If you are an international buyer, please wait for my invoice since I will combine shipping to give you the best deal possible.
Grading Details:
BU = Brilliant Uncirculated – "New," has absolutely no sign of wear but may have minor blemishes, bag marks, etc. AU = Almost Uncirculated – Small amount of wear on the highest points. Usually a highly lustrous coin. (AU+ = so close to "new" that you will need a high-powered magnifier to see any wear.) XF = Extremely Fine – Very light wear on the high points. i.e., hair above braid, high points of hip & thigh VF = Very Fine – Light to moderate even wear. All major features are sharp. Horn is worn but distinct on well struck coins. (I am using the 7th edition of the ANA guide which states that for a "typical" VF Buffalo, the tip of the horn is not always visible.) F = Fine – Moderate to heavy even wear. Entire design is clear and bold. Horn & tail are smooth, but partially visible. Rim is complete but flat in spots. VG = Very Good – Well worn. Design is clear but flat and lacking details. LIBERTY merges with rim. Horn worn nearly flat; rim is flat. G = Good – Heavily worn. Design and legend are visible, but faint in spots. Date is partially visible. Bison is nearly flat but is well outlined. Horn does not show. Legend is weak but readable. Rim is worn to tops of letters.  AG = About Good – Design is outlined, with nearly all details wron away. Date & motto are partially readable but very weak. The rim is merging with the letters on both obverse and reverse.  Note about Buffalo Nickel dates: Some dates are typically weakly struck, so the first two digits are often the first to "disappear," especially since the date is one of the highest spots on the nickel. If my description above says "partial date" or "weak date," all four digits are not visible, but there will be enough of the date for me to be absolutely certain the date is as stated. The mint mark on lower grades begins to look "mushy" or flat, but it still is identifiable. Also, this is NOT an acid-restored coin. "The following dates are usually unevenly struck, with weak spots in the details: 1913-S (Variety I and II), 1917-D, 1917-S, 1918-D, 1918-S, 1919-D, 1919-S, 1920-D, 1920-S, 1921-S, 1923-S, 1924-D, 1924-S, 1925-D, 1925-S, 1926-D, 1926-S, 1927-D, 1927-S, 1928-D, 1928-S., 1929-D, 1931-S, 1934-D AND 1935-D. Nickels dated 1919-S, 1920-S, 1923-S, 1925-S, and especially 1926-D are seldom found with full details." (quotation from The Official American Numismatic Association Grading Standards, 7th edition, page 125.) 
Split Grade:
I use "split" grades to describe an "in between" coin. For example "VF-XF" means that the coin is better than Very Fine and may have some of the characteristics of Extremely Fine, but it isn't quite good enough to grade it XF.
Use 's checkout system if you wish or I'll send an invoice.
Listing Errors:
Because I usually list several hundred coins per month, I occasionally make a mistake in the listing, usually by loading up the wrong photo for the listed coin. If you notice a photo that obviously doesn't match the listing description, please bring this to my attention before bidding so I can correct the photo promptly. In the event a listing ends with a discrepancy between the photo and the listing description, the description will be what I'll go by to make the delivery. Questions? Please ask me for clarification as needed.
PERSONAL GRADING PHILOSOPHY
I urge you to look at recent feedback comments. I think you'll conclude my grading must be fair, consistent, and above all, honest. To me, a coin is either uncirculated or it's not uncirculated. Yes, I use the term (and legitimate grade) of Almost Uncirculated, but I don't believe in the terms "mail order unc." or "commercial unc." To me, those terms are an abomination to numismatics. What those terms really mean is: "This coin really isn't uncirculated, but you can probably get by with calling it uncirculated." I also don't sell many "slabbed" or coins graded by third-party grading services. I occasionally do sell a slabbed coin, but that means I also agree that it will make the grade. My average return rate from dissatisfied customers is something less than one coin out of a thousand, so I must be doing something right. Finally, if you have any questions, just ask me! Thanks for taking the time to read this and look at my listing(s). Chuck
| | |
| --- | --- |
| Save time & money withFREE Auctiva Image Hosting. | Create listings that get noticed!with Auctiva's 1,800+ Templates. |
Auctiva,The complete Selling Solution.
Track Page Views WithAuctiva's FREE Counter