Front Brake Disc Rotors For Hodna VFR 400 R 86 87 88 CBR 500 F 87-90 CB 1100 F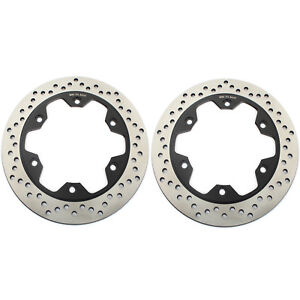 ---
HomeAbout usContact usStore CategoriesStore CategoriesCafe Racer PartsGas Tanks & accessariesSeat & accessariesFootpeg/ Bars/ LeversLights & License plateBrake Disc RotorHarley Davidson PartsBrake Disc RotorForward controls footpegsBrake Clutch LeversRear Lowering KitLED LightsHonda Cruiser & TouringShadow SeriesValkyrie & F6CVTX SeriesPhantomGold WingDeauvillePacific CoastYamaha Cruiser & TouringDragStarRoyal StarV StarV-MaxViragoFJR1300Venture RoyaleKawasaki Cruiser PartsVulcanEliminatorSuzuki Cruiser PartsBoulevardIntruderBMW Cruiser & TouringR1200CR1100RTR1200RTDucati CruiserTriumph Cruiser & TouringStreet Bike PartsHONDABrake Disc RotorRacing HookRadiatorsFrame & Engine SliderGas CapCNC Clip On HandlebarsRearsetsYAMAHABrake Disc RotorHandlebarsBillet RearsetsOtherFrame & Engine SliderRadiatorsSUZUKIBrake Disc RotorBrake Clutch LeversHandlebarsCNC FootpegsBillet RearsetsOtherFrame & Engine SliderBling KitsRacing HookRadiatorsKAWASAKIBrake Disc RotorHandlebarsBillet RearsetsFrame & Engine SliderBling KitsRacing HookRadiatorsGas CapAPRILIABrake Disc RotorBrake Clutch LeversCNC Clip On HandlebarsCNC Adjustable RearsetsFuel Gas CapOther Motorcycle PartsRadiatorsFrame & Engine SliderBMWBrake Disc RotorBrake Clutch LeversCNC Clip On HandlebarsCNC FootpegsBillet RearsetsFuel Gas CapOther Motorcycle PartsFrame & Engine SliderRacing HookKTMBrake Disc RotorRadiatorsCNC FootpegsFrame & Engine SliderHandlebarsBling KitsBrake Clutch LeversOtherRearsetsDUCATIBrake Disc RotorBrake Clutch LeversCNC Clip On HandlebarsCNC Adjustable RearsetsFuel Gas CapOther Motorcycle PartsRacing HookRadiatorsFrame & Engine SliderOther BrandBrake Disc RotorTRIUMPHBrake Disc RotorBrake Clutch LeversCNC Clip On HandlebarsBillet RearsetsFuel Gas CapOther Motorcycle PartsRacing HookFrame & Engine SliderBENELLIBrake Disc RotorBrake Clutch LeversCNC Clip On HandlebarsHUSABERGBrake Disc RotorAlloy Wheel RimBling KitsCNC Clip On HandlebarsBUELLBrake Disc RotorBrake Clutch LeversCNC Clip On HandlebarsCNC Adjustable RearsetsFuel Gas CapFrame & Engine SliderMV AUGUSTABrake Disc RotorBrake Clutch LeversCNC Adjustable RearsetsRacing HookCNC Clip On HandlebarsHYOSUNGBrake Disc RotorBrake Clutch LeversCNC Clip On HandlebarsHUSQVARNABrake Disc RotorOther Motorcycle PartsCNC Clip On HandlebarsOther Motorcycle PartsHand GripsATV Parking Brake Block OffExhaust PipeFrame Slider/ProtectorKick Start Pedal LeverKTM PartsLever GuardSprocket CoverSwing Arm SpoolsBrake Light SwitchHandlebar RisersBrake Disc RotorUniversal Foot PegsParts for BremboHandlebar End SlidersKickstand PadCafe Racer RearsetsPolarisARCTIC CATCAN AMMotorcycle ClothingGlovesBootsClothesJeansArmor PadsHelmet BagDirt Bike StoolThrottle ClampBleeder ValveHeadlight BracketBREMBOBrake Clutch LeverATV PartsBrake Disc RotorHondaYamahaSuzukiPOLARISKawasakiARCTIC CATATV Thumb ThrottleRadiatorPolarisYamahaKawasakiSuzukiHondaATV Clamp RiserHandlebar RisersOff-Road PartsMX Bling KitsYamahaHondaSuzukiKawasakiKTMHusabergMX Foot PegsHondaKTMBMWSuzukiYamahaKawasakiMX RadiatorsHondaSuzukiYamahaKawasakiKTMGAS GASMX Wheel SetsKawasakiYamahaHondaKTMSuzukiMX Handlebar RisersMX Brake Disc GuardMX Shift LeverMX DiscsHondaKawasakiSuzukiYamahaKTMOther

International Buyers – Please Note: 

●We could not mark the item with " gift " , customs policy not allowed.

●Import duties, taxes and charges are not included in the item price and shipping cost. These charges are based on your local customs policy,and will be colleted by shipping company when you get the item.

Product View

Description

HONDA VFR 400 R 1986 HONDA VFR 400 R RH2, RJ 1987-1988 HONDA CBR 400 R/Hurricane RG- 1986-1987 HONDA CBR 500 F H,J,K,L 1987-1990 HONDA CBR 600 F FM,FN,FP,FR 1991-1994 HONDA CBR 600 F SuperSport 1991-1994 HONDA CBR 600 F, Hurricane FH,FJ,FK,FL 1987-1990 HONDA XRV 650 Africa Twin twin disc model HONDA VFR 700 F/ F2 Interceptor 1986-1987 HONDA VF 700 F Interceptor 1984 HONDA VF 700 F Interceptor 1985 HONDA VF 700 S Sabre 1982-1985 HONDA VF 750 Sport 1982-1983 HONDA VFR 750 F Interceptor G,H 1986-1987HONDA CBR 750 Hurricane 1987-1989 HONDA CBR 750 Superaero FH 1987 HONDA PC 800 Pacific Coast 1988-1998 HONDA CB 1100 F / SuperSport 1983- HONDA VF 1000 F Interceptor 1984 HONDA VF 1000 F2 Bol dr 1985-1987 HONDA VF 1100 S V65 Sabre 1984-1985Feature:Quantity: 2 pcsNet Weight:2.6kgCondition: Brand New, Never Mounted.Material: Stainless steel 420 (2Cr13)Front Disc size:Outer Diameter:276.5mmInnner Diameter: 144.5mmThickness:5mmExamined and tested upon each purchase.Provides strong, reliable braking power. About usShipping & ReturnPayment Contact usAbout us

 

We have a factory with specialized machine and produce line, in the past 8 years we concentrate on design and develop professional and high quality of motorcycle parts.

We main product are : brake disc rotor, rearsets, foot pegs, forward controls, wheels ,levers, clip ons and so on.

 

 

 

Shipping & Return

 

Item will delivery whthin 1 business day after your full payment has been received.

If your country is not in the listing we ship to, please contact us before you bidding them.

We offer a 60-days 100% money back guarantee. Buyer pays return shipping and when we received will refund your money

All returned products must be in new, re-salable condition.

Payment

 

We accept PayPal ONLY

Contact us

 

If you have any question during this transaction, welcome you to contact us directly through MESSAGE before you leave any comments, we will reply you within 1 business day. especially if you have issues about the installment, we mechanic enginner will provide guidlance.