GoPro HERO7 Black Waterproof Digital Action Camera 4K HD Video 12MP + 32gb Kit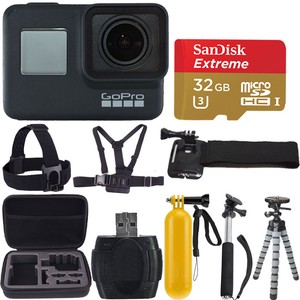 ---
Photo Video 4 Less Store PhotoVideo4Less on | Contact Us via Store Home Our Feedback Add to Favorites New Arrivals Items On Sale Contact Us OUR categories Store home Cameras & Photo Musical Instruments & Gear Consumer Electronics Sporting goods Collectibles Computers/Tablets & Networking Cell Phones & Accessories Home & Garden Crafts Business & Industrial Entertainment Memorabilia Clothing, Shoes & Accessories Video Games & Consoles Jewelry & Watches Why Choose Us GoPro HERO7 Black Waterproof Digital Action Camera 4K HD Video 12MP + 32gb Kit
| | |
| --- | --- |
| SKU: GPH7BKK11 Item: 173594049223 | |
EVERYTHING THAT IS INCLUDED IN THIS LISTING (IMAGES & ITEM DESCRIPTIONS BELOW):

Kit Items: GoPro HERO7 BlackSandisk Extreme - Flash memory Card - 32 GB - Microsdhc UHS-I - Gold, RedHi-Speed SD USB Card ReaderUltimax Medium Hard Case For GoproHead strap mount for GoproXit chest strap mount for GoproWrist Strap Band Mount for GoProXit floating handle for GoproGripster Flexible Tripod SmallXit hand held monopod extends to 43'' for SLR Camera with Gopro mount Main Item Accessories: Detailed Descriptions & Images of all items in this KIT/Bundle: GoPro HERO7 Black

SKU: GPH7BKI

ITEM DESCRIPTION:

Living up to its action camera moniker, the GoPro HERO7 Black is designed to capture super-smooth footage of your latest, greatest, not-so-serene adventures. The HERO7 Black's HyperSmooth stabilization produces a gimbal-like flow without the added bulk of a gimbal. Camera updates include direct streaming to Facebook Live, an intelligent still photo mode, and stabilized time-lapse video. A vertical portrait mode enables you to add social media-style video and stills to your Instagram and other accounts.

The GoPro HERO7 Black supports up to UHD 4K60 video resolutions, and captures 2.7K120 slow-motion and super-slow motion video at rates up to 1080p240. Still images can be captured in up to 12MP resolution in bursts of up to 30 images per second. Like its predecessor, the HERO6 Black, the HERO7 Black is waterproof to 33', suiting it for surfing, snorkeling, and swimming activities. A housing is available separately for even deeper underwater activities.

Document your travels and extended adventures with TimeWarp Video, which records super-stabilized, moving time-lapse shots. Choose the SuperPhoto function to apply intelligent HDR, local tone-mapping, or noise reduction for optimal still shots. While the HERO7 Black retains the size of its predecessor, both touch and vocal control have been enhanced. The touchscreen has been streamlined to more closely resemble smartphone navigating; and when your hands are full, 16 voice commands enable you to verbally control the HERO7 Black.

KEY FEATURES & SPECIFICATIONS:

Supports 4K60, 2.7K120 & 1080p240 Video12MP Still Photos with Selectable HDRHyperSmooth Video StabilizationDirect Live Streaming to Facebook LiveTimeWarp Stabilized Time-Lapse VideoWaterproof to 33' without a HousingVertical Portrait Mode for Social MediaIntuitive, Smartphone-Like TouchsceenFace, Smile & Scene Detection16-Command Voice Control

 

IN THE BOX:

Rechargeable Battery The Frame for HERO7 Black Curved Adhesive Mount Flat Adhesive Mount Mounting Buckle USB-C Cable

Sandisk Extreme - Flash memory Card - 32 GB - Microsdhc UHS-I - Gold, Red

SKU: SDM32GBE

ITEM DESCRIPTION:

Capture more fast action and record more Full HD or 4K UHD video with your Android based smartphone, interchangeable-lens camera, drone or GoPro action camera. The SanDisk Extreme microSD UHS-I Cards are built tough for extreme durability under challenging environmental conditions4. Extreme speeds let you capture every detail of adventure and take the wait out of transferring your videos between devices. Storage capacities from 32GB to 128GB expand your device's memory and let you record 4K UHD video.THE SPEED YOU NEEDThe best stuff happens fast. With extreme write speeds up to 90MB/s, SanDisk memory cards give you the speed you need to capture every detail. Fast write speeds reduce the time you're on hold while you move pictures and videos to your card, so you're always ready to catch the next great shot, and enjoy smooth video playback.4K UHD READYWith UHS Speed Class 3 (U3) and UHS Video Speed Class 307 [V30 is for 32GB-128GB only] ratings, the SanDisk Extreme microSDHC and microSDXC UHS-I Cards let you capture uninterrupted 4K UHD and Full HD video. This makes it ideal for recording outdoor adventures, weekend trips, or sporting events without skipping frames.EASY FILE RECOVERY WITH RESCUEPRO DELUXE SOFTWAREThe cards comes with a download offer for RescuePRO Deluxe data recovery software. This software makes it easy to recover files that have been accidentally deleted (download required).LOAD APPS FASTER WITH A1Rated A1, this SanDisk Extreme microSD card is optimized for apps, delivering faster app launch and performance that provides a better smartphone experience.CHOOSE THE AMOUNT OF STORAGE YOU NEEDThe amount of capacity you need depends on the types of files you have, how big they are, and how many there are. The chart above gives you an idea of how many photos and hours of video you can store for each capacity.SD ADAPTER FOR VERSATILITYThis card comes with a convenient SD card adapter, so you can also capture and access data on the card with any device that has an SD card slot. You'll be able to use your memory card with SD enabled cameras, camcorders, tablets, and laptops.

KEY FEATURES & SPECIFICATIONS:

Delivers 4K Ultra HD and Full HD video recording and playbackMeets the new UHS Speed Class 3 (U3) and UHS Video Speed Class 30 (V30) for 4K UHDTransfer faster with read speeds up to 90MB

IN THE BOX:

SANDISK EXTREME 32GB Micro Plus MICRO-SDXC UHS-I SD Memory Card 4K UHD

Hi-Speed SD USB Card Reader

SKU: GBSDCR

ITEM DESCRIPTION:

A card reader is a small piece of hardware with simple Plug & Play features that connects directly to your PC via a USB port and allows you to transfer pictures & other media files without the need to plug your camera to the PC.

KEY FEATURES & SPECIFICATIONS:

MAC & PC compatible

IN THE BOX:

1 - Hi-Speed SD USB Card Reader

Ultimax Medium Hard Case For Gopro

SKU: ULGPHCASEMD

ITEM DESCRIPTION:

Ultimaxx Medium Carry Case For All GoProKeep your GoPro camera kit organized and secure with the Ultimax Medium Carry Case for All GoPro and other small action cameras. Constructed with a tough hardshell case exterior and custom-cut interior foam compartments, this easy-to-carry case protects equipment from scratches and shocks which could shorten the life of your camera. The elastic mesh pocket provides even more storage space for charging cables and other small accessories. • ALL GOPRO: The medium carry case houses all models of GoPro and other small action cameras. • DAMAGE PROTECTION: Hard exterior shell and shock-absorbing interior foam keeps your equipment protected from dirt, scratches, drops and other damage-causing bumps. • STORE EVEN MORE: Additional mesh pocket expands the storage space, ideal for cords and other small accessories. • SIZE: 8.5" x 6.5" x 2.5"

KEY FEATURES & SPECIFICATIONS: IN THE BOX: Head strap mount for Gopro

SKU: GBGPHEAD

ITEM DESCRIPTION:

This GoPro Head Strap Mount is Fully Adjustable to fit all sizes.

The Head Strap is compatible with all GoPro cameras and great for keeping the footage clear while you shred.

KEY FEATURES & SPECIFICATIONS:

Head strap mount keeps your action camera or GoPro camera mounted to your head without a helmet GoPro camera head strap keeps your hands free Allows you to stay focused when climbing, swimming, performing search and rescue operations or any other activity where a helmet isn't needed or required

IN THE BOX:

Head Strap is fully adjustable to fit all sizes Head Strap can be worn over a helmet or directly on your head in a headlamp-like position One year limited warranty

Xit chest strap mount for Gopro

SKU: XIGPCHEST

ITEM DESCRIPTION:

The "Chesty" is fully adjustable to fit all sizes. It is easy to capture immersive video and photo footage from your chest. It is perfect for skiing, mountain biking, motocross, paddle sports, or any activity where you want to get a "lower than the helmet" view of the action.

See more of your arms, knees poles, and skis while skiing or your arms and handlebars while biking or riding your motorcycle. 

KEY FEATURES & SPECIFICATIONS:

Recommended as a more immersive way to film than on the helmet. 

IN THE BOX:

Xit chest strap mount for GoPro

Wrist Strap Band Mount for GoPro

SKU: GBWS

ITEM DESCRIPTION:

Mount adapter fasten on high-strength outer layer fabric inner layer fabric made with material that breathes well to ensure wearing comfort. Compatible with housing and frame mount for ALL GoPro HERO camera. You have full use of both hands when not recording and this makes the wrist mount perfect for surfing, snorkeling, climbing, and skiing.

The wrist mount secures your camera flat against your wrist for hands-free convenience Easy to pivot your camera upright to capture video and take photos.

KEY FEATURES & SPECIFICATIONS:

Wear GoPro Like a Watch Fold Camera Flat when not Shooting Mount Rotates 360° Secures with Hook-and-Loop Fastener Also Straps to Poles and More

IN THE BOX:

Wrist Strap Band Mount for GoPro

Xit floating handle for Gopro

SKU: XIFHGP

ITEM DESCRIPTION:

 Comes ready to attach to your GoPro camera, light and small enough to travel in your backpack  It's totally sealed and made of hard plastic. It's easy to use and can keep GoPro afloat to make sure its safe  Bright yellow color makes it easy to spot if it gets away Adjustable strap to fit your wrist One year limited warranty

KEY FEATURES & SPECIFICATIONS:

Provides Grip for Hand-Held Shooting Fully Sealed: Floats if Dropped in Water Bright Yellow for High Visibility Wrist Strap Included

IN THE BOX:

Floating Bobber Handle for GoPro Wrist Strap

Gripster Flexible Tripod Small

SKU: GBGP14

ITEM DESCRIPTION:

Gripster Flexible Tripod for Compact Digital Cameras and Camcorders

KEY FEATURES & SPECIFICATIONS:

Flexible Tripodfor Compact Digital Cameras and CamcordersQuick release plate for fast and easy camera mounting and dismountingSafety Knob locks the mounting plate in place for additional security/ Rotate clockwise to lock, counterclockwise to unlockFlexible Joints bend and rotate 360 degrees to conform to any shape - Rubber rings and Foot Grips provide extra gripping power for a secure hold

IN THE BOX:

Gripster Flexible Tripod Small Can be used with most digital cameras and GoPros

Xit hand held monopod extends to 43'' for SLR Camera with Gopro mount

SKU: XIMP43

ITEM DESCRIPTION:

The Xit Extendable Hand Held monopod extends from 8"-43". It features a padded Grip with a Wrist strap. The monopod sports a regular tripod mount, it also includes a GoPro mount so that you can mount your GoPro camera.

KEY FEATURES & SPECIFICATIONS:

Hand Held Monopod for GoPro and Regular Cameras Extends from 8"-43" Padded grip with Wrist Strap

IN THE BOX:

1 - Xit hand held monopod extends to 43'' for SLR Camera with GoPro mount

Need assistance? CONTACT US TODAY! Terms Returns About Contact Warranties Local Pick Up

Our Process: Directly following the placement of your order an invoice will be sent to the email address registered with . If an email from us has not been received, check your spam folder, if it's not there, contact us via : Contact PhotoVideo4Less on . Do we accept PayPal? YES! We accept PayPal payments from all countries. Please be advised PayPal payments may be subject to verification to protect against fraudulent accounts. Alternate Billing/Shipping Address: If your shipping address is different than your billing address, certain verification will be necessary. On payments made through credit card with an alternate shipping address, Photovideo4less will request a secondary address to be listed with the issuing bank. What happens if we need more verification? If we require further verification, we will send you an email at the email address registered with , or contact you at the phone number provided. PhotoVideo4Less reserves the right to refuse orders which the address, phone number or credit card cannot be verified. International Orders: International orders may be subject to local import fees, duty, customs, VAT charges or additional taxes, depending on the country of destination tax laws. PhotoVideo4Less is not responsible for any of these tax charges, nor can we offer any specific advice on import fees, duty, customs, VAT or taxes that you may be obligated to pay upon the arrival of your merchandise. Should you have any questions or requests for specific information regarding any of these potential charges, we advise you to consult with your local government import office. How long does it take from when I order for the shipment to leave the warehouse? We usually process all orders within 24 hours of receipt of payment, barring any verification delays.

SHIPPING TERMS: We ship with tracking numbers using the following companies: UPS and USPS. We ship worldwide, to APO/FPO addresses included. Merchandise will be shipped from our warehouse promptly after verification of your information and that your payment has been cleared and completed. Upgraded Shipping Available: Please note that this option is available upon request. Please contact us for further information. Packages above a minimal price may be subject to a signature upon delivery. Please make your arrangements accordingly. NO HIDDEN FEES APPLY.

When returning an item you must contact Customer Service at: Contact PhotoVideo4Less on to obtain a Return Merchandise Authorization Number (RMA#) prior to returning the item. We can only accept a return if it is returned to us in the original manufacturer's packaging, same condition as sold, and with all literature/instructions/documentation and blank warranty cards. Place the manufacturer's box into a shipping carton. Please do not place stickers or shipping labels on the original manufacturer's packaging. The customer is responsible for arranging the return shipping and for its costs. For your protection, we advise that you should please insure the package and ship via a traceable method.

Our 30-day exchange policy applies to items received in defective condition. For return authorization please contact us via phone or email within this time frame. Merchandise shipped back without an RMA will be returned at the buyer's expense. Please note - A package refusal will be recognized as an unauthorized return in which a 5% restocking fee, as well as the cost for the returned shipment, will apply. Items that are shipped free, if returned, a refund less our original shipping cost will be given. sales are final! A 5% handling and processing charge will apply for orders that are returned.

PhotoVideo4Less on is known for providing cameras and photography equipment for the professional photographers' industry since 2005. Although we specialize in professional photography equipment we carry a large selection for the amateur photographer as well. We attribute our success to our competitive pricing and to our high standards of honesty and integrity. We stand behind our products as being the top quality that customers expect to receive. Our high standard of honesty has gained us a respectful reputation in the photography industry and has earned us many repeat and friend referred customers. When browsing our store, keep in mind that our friendly and knowledgeable staff are always ready to help you in finding the right equipment. So browse at ease and enjoy the widest selection of cameras, camcorders, printers, scanners, lighting equipment, tripods, lenses, flashes and much more. At "Photovideo4less" customer satisfaction is our top priority. We love our customers and are eager to leave positive feedback once payment has been finalized. We are confident that our customers will feel the same about us and express so by leaving us a 5-star rating on . Please note: The images of some accessories may not reflect the actual item shipped. At times, we may substitute accessories for similar ones of equal or greater value.

We want to better serve you, please call us. We are open Monday through Friday. To speak to a live representative, contact us via : Contact PhotoVideo4Less on . Hours of Operation: New York (EST) Monday - Thursday: 10:00 AM - 5:30 PM Friday: 9:30 AM - 1:00 PM We are closed on weekends & holidays. For around the clock communication please send us an email anytime. We will get back to you very shortly.
If the item listed comes provided with a manufacturer warranty, we will specify this information in the Product Description area.

You can contact us for detailed warranty information and options.
Local pickup is also available at our Brooklyn location. Please contact us via : Contact PhotoVideo4Less on for the necessary arrangements prior to purchasing.

Add us as your favorite Seller Sign up for our newsletter

Click here to Subscribe to our Newsletter. Get all the Latest News, Updates and Special Offers about Our Store.

Follow & Share with Us

We are trending on Social Media. Follow us and stay updated with our Latest Post, Blogs, Images.

Facebook: /ThePhoto4Less Twitter: @Photo4Less Pinterest: /Photo4Less Instagram: @Photo4Less YouTube: /Photo4Less Payment options

We accept PayPal & we are Verified. PayPal allows you to use all types of credit and debit cards:

Our Store Our Feedback New Arrivals Contact Us © Copyright 2003-2018 by Photovideo4less. All rights reserved. Protect Your Product With a Consumer Priority Service Warranty